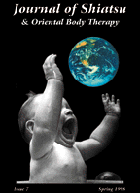 [Issue1 | Issue2 | Issue 3 | Issue 4 | Issue 5 | Issue 6 | Issue 7| Issue 8]
You can read and download all of these Journals Online.
Click on an article to see an abstract of it and the rest of
the articles in that issue
---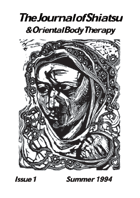 Issue 1

What are Meridians by Daverick Leggett
Daverick Leggett explores the traditional explanations of meridians
and adds a survey of current research to try and illuminate their
real nature.
Development and Energy (Part 1) by Bill Palmer
Bill Palmer's research into how child movement development and
meridians are related gives another explanation of meridians and
also points the way to how to use Shiatsu as a stimulus for development
and the repatterning of postural and chronic energy problems.
The Tao of Shiatsu by Elizabeth Marshall
A humorous and informative article on the patterns found in the
theory of the Five Elements using the stories about Pooh Bear
by E.E.Milne as illustrations.
---
Issue 2
Ideopathic Scoliosis by Sam and Anna McClellan
This article describes the research of the McClellans into how
Integrative Acupressure can be used to prevent the development
of scoliosis and how the tendnacy towards scoliosis can be diagnosed
energetically before it manifests.
Teaching Shiatsu to Mothers of Disabled Children by Nick Pole
This article describes Nick Pole's work with the charity Scope
to teach Shiatsu to carers of children with developmental difficulties.
He finds that the exercises presribed by physiotherapists can
feel very invasive to both mother and child and tend to cause
conflict in their relationship but Shiatsu touch establishes a
good feeling relationship after which physiotherapy can be more
easily done.
Movement Shiatsu in the Treatment of Cerebral Palsy by Bill Palmer
This article describes how the developmental approach of Movement
Shiatsu is being used in practice to help young children with
cerebral palsy.
Treating Children with Shiatsu by Peter Gigante
Gigante describes and summarises his extensive clinical experience
of working with children in the field of Shiatsu and Chinese Medicine.
An article describing the basics of Feng Shui and its complementary use to
energy therapy such as Shiatsu
---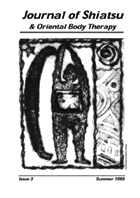 Issue 3:
[Read It Now]
The Energetics of Food by Daverick Leggett
This article, in three parts, describes the use of food as a healing
aid within the context of Chinese Medicine
Shiatsu and Traumatic Brain Injury by Andrea Battermann
This article, written by a practicing physiotherapist, describes
how Shiatsu is being used as a complement to physiotherapy in
a Traumatic Brain Injury unit.
The Development of
Energy by Bill Palmer (can be read separately online)
This article sets out the theory of how the development of movement,
posture and personality is guided by the meridians of classical
Chinese Medicine. It points to a way in which Oriental Bodywork
can help chronic problems by re-stimulating the process of development
so that new and healthier patterns can form in the neuromuscular
system.
Honouring cancer through Shiatsu Touch by Thea Bailey
This article describes how the qualities of Touch specific to
Shiatsu are being used to help people with cancer in the Bristol
Cancer Help centre and shows, more generally, how specific aspects
of touch can be helpful to people in both their dying and healing
process.
---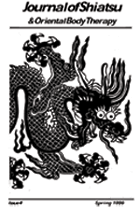 Issue 4
Healing the Earth by Maddie Parisio
This article draws a beautiful analogy between natural methods
of agriculture and non-interventionalist healing. Parisio's thesis
is that intervention prevents natural process from moving and
that the full power of Chinese Medicine is lost when we try to
'cure' in this way. She shows how, instead, the techniques of
Oriental medicine can be used to nurture and support the process
of the disease, which she sees as the organisms natural method
of rebalancing itself.
This article explores how the process of embodiment, or fully
inhabiting the body, is as much a spiritual practice as the 'Mind'
practices of many religions. She identifies embodiment as the
female aspect of 'enlightenment' and points at how Shiatsu and
body therapy can be used to help people in their spiritual development.
The Healer in the rescuing Role by Delcia McNeil 9
Delcia McNeil runs supervision groups for healers and body therapists
and in this article describes the dynamics of the Healing relationship
and how to avoid common pitfalls such as the rescuing role.
Measuring Quality of Life by Philip Harris
In the third in his series of articles on how scientific research
techniques could be used to validate the use of Complementary
Therapies Harris explains the subtle concept of Quality of Life.
Many changes that occur in Complementary Therapy cannot be measured
by machine but can still be quantified and analysed in a scientific
way. This article describes methodologies and criteria which allow
for formal research to be carried out in this field.
---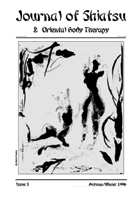 Issue 5
Teaching Energy awareness in Shiatsu Training by Nicholas Pole
Nick Pole explains in this article how he practically teaches
the art of intuitive energy awareness to students in the Shiatsu
College training courses. This is an inspiring and informative
article which will be useful for any teacher of Energy Therapy
to read.
The Six Divisions by Bill Palmer
The Six Divisions are one of the most ancient descriptions of
the linkage between energy, mind and body in Chinese Medicine
but there is very little literature on them. Bill Palmer shows
how the pairing of meridians which the Six Divisions makes describe
deep archetypal connections between the functions of the Chinese
Energy Organs and provide a way of seeing posture and personality
as being two aspects of the same thing.
Wise Women: Making Informed Choices at Menopause by Hilary Totah
This article describes the process of menopause and how Shiatsu
and Chinese Medicine can be used to complement or replace the
orthodox western methods of dealing with it. In addition, Hilary
Totah explains how these approaches can transform women's attitude
to menopause, seeing as a great opportunity for a powerful transition
into another life role rather than an uncomfortable and disempowering
'condition'.
A Survey of Illnesses Presenting for Shiatsu by Nicola Pooley
and Philip Harris
A research audit of which illnesses are currently most commonly
being treated by Shiatsu Therapists in the UK.
The Breath of Awareness by Sonia Moriceau
A short article describing how breathing is the root of healing
and how meditation techniques and Shiatsu can be combined.
In Search of Style by Peter den Dekker
This article is a brilliant discussion of how relevant 'Traditional
Chinese Medicine' is to both acupuncture and Shiatsu. den Dekker
describes the historical development of TCM from internal therapies
such as Herbalism and analyses when the syndrome descriptions
of TCM may be useful for 'external' therapies such as Shiatsu.
---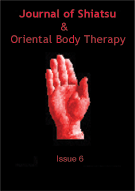 Issue 6
Diagnosis: The Journey of a lifetime by Neil Gulliver
Neil Gulliver explains how diagnosis in Shiatsu can be a way of
seeing the person as a whole being rather than an intelectual
analysis of a problem.
Shiatsu as a Spiritual Practice by Simon Fall
An extract from Simon Falls book "As Snowflakes fall" describing
how the philosophy and practice of Shiatsu has a spiritual dimension
and can help spiritual development as well as bodily health.
Qi Gong: A Radical Approach by Daverick Leggett
Daverick Leggett has been specialising in how to bring the process
of Oriental Therapy into people's daily life as well as having
expert treatment. His past articles on Food have this theme and
in this article he describes how Qi Gong can act as a complementary
practice to treatment, strengthening and balancing our energy
by daily exercise.
Healing M.E. by Oliver Cowmeadow
Cowmeadow describes the energetic diagnoses associated with M.E.
and distils his experience in working with this condition in a
Shiatsu context
Contraindications and Endangerment Sites by Carl Dubitski
A catalogue of warnings and contra-indications for all therapists
involved in touch therapy.
Movement Shiatsu by
Henry McGrath (can be read separately online)
This article, written by a recent graduate, describes poetically
the distinctive style and approach of Movement Shiatsu
---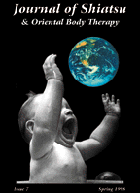 Issue 7
The Five Mai Meridians used in Shiatsu Do by Ray Ridolfi
The Eight Extra Meridians by Peter den Dekker
The Energetics of the Gestalt Cycle by Bill Palmer
The Short Form by Peter den Dekker
The Concepts of Shiatsu by Yvonne Muraglia
Redefining the Role of Shiatsu in Pregnancy, Birth & Babyhood
by Suzanne Yates
The Lannoye Report by Seamus Connelly
---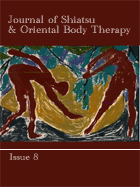 Issue 8
Standing Qi Gong and the Practice of Shiatsu by Peter den Dekker
Dealing with Conflict by Bill Palmer
Energetic Dynamics In Organisations by Julie A. Richardson
Counselling Skills And Bodywork Therapists by Delcia McNeil
Bodywork And Cultural Communication by Alice Pitty
Diagnosis: Said And Left Unsaid by Peter den Dekker
Mindfulness Meditation by Sonia Moriceau