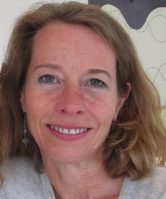 I began my Shiatsu studies in Scotland in 1980 while doing a languages degree. Receiving Shiatsu was an essential part of my recovery from illness. After graduating I moved to London to start work as a translator and was able to continue studying at the East West Centre there.
In 1984 I gave up my translating job and went to Japan to participate in a healing course which included Shiatsu as well as other Oriental healing methods.  A year and a half later I went to Australia and worked for a year as an assistant at the Zen Shiatsu Centre in Sydney.  On my return to Britain I continued my Shiatsu studies for many years with Sonia Moriceau and Healing Shiatsu.  I set up my private practice in 1988.  Later, I was encouraged to teach and became a registered teacher with the Shiatsu Society(UK) in 1998.
Since 2007 I have worked closely with Bill Palmer and incorporate the principles of Movement Shiatsu, Experiential Anatomy, and Inner Qigong into my clinical practice.
The non-intrusive approach of Healing-Shiatsu and the interactive style of Movement Shiatsu are my main sources of inspiration.  I draw experience from a long training in Yoga and the Chinese Healing Arts and my work focuses on helping clients to feel what their body needs to do to resolve their issues and gently helping their body to adjust itself through movement and contact.
For 11 years I taught on the BA in Complementary and Holistic Therapies at Derby University and am now Senior Tutor at the School for Experiential Education, co-teaching postgraduate courses in 10 countries worldwide. Since 2000 I have coordinated and assessed teacher applicantions for the Shiatsu Society.