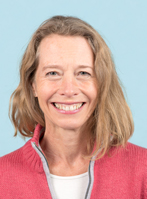 I began my shiatsu studies in Scotland in 1980 while doing a languages degree. After graduating I moved to London to start work as a translator and was able to continue studying Shiatsu at the East West Centre in my spare time.
In 1984 I gave up my translating job and went to Japan to participate in a healing course which included Shiatsu as well as other Oriental healing methods. After a year and a half I went on to Australia and worked for a year as an assistant in the Zen Shiatsu Centre in Sydney. On my return to Britain I began studying Shiatsu under Sonia Moriceau at the Healing-Shiatsu Education Centre near Hereford.
Although I have been greatly influenced by my teachers in Japan and Australia, the non-intrusive approach of Healing-Shiatsu is my main source of inspiration and Sonia remains my teacher still. I also draw experience from a long training in Yoga and the Chinese Healing Arts. In 1998 I became a registered teacher with the Shiatsu Society.
For 11 years I taught the BA in Complementary and Holistic Therapies at the University of Derby and now am Senior Tutor at the School for Experiential Education, co-teaching postgraduate courses worldwide.
Since 2000 I have been actively involved with practitioner and teacher assessments for The Shiatsu Society.